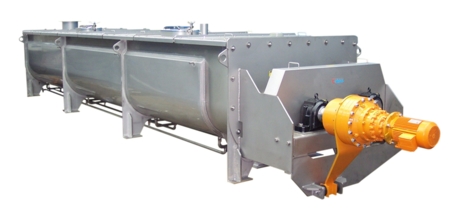 If you are you seeking a continuous method of heating or cooling powders or granules, then a brand new product to Orthos – and the UK – might be of interest: the °Celsius screw heat exchanger.
Heat transfer takes place via screw shaft, jacket, flights or a combination of all.  Available in a range of versions to suit any application, the °Celsius machine may have single or twin screws running in a trough or tube style housing, fabricated in mild or stainless steel.
Cooling can be done indirectly to a product temperature of -25°C, or with direct cooling -196°C.
Heating can be done indirectly with water (up to 160°C), thermal oil (up to 300°C) and steam (up to 200°C).
Typical applications: Cooling cocoa press cake, defrosting fruit berries, heating calcium carbonate, drying egg shells, cooling starch powder.


For full product information, current prices and availability, please call us on 01858 464246 or email andrew.reynolds@orthos.uk.com