Orthos at BULKEX 2015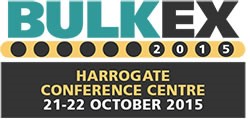 Together with two of our principals ALLGAIER, and FIREFLY, Orthos will participate in BULKEX 2015, a brand new event within the bulk handling industry being held on Wednesday 21 and Thursday 22 October at the Harrogate International Conference Centre.
This major exhibition and conference is the first event of its kind for colleagues across the bulk and materials handling industry. Covering all areas including ports, power, mining, steel and cement, it will provide a valuable insight into the latest industry trends and face to face interaction with some of the industry's most recognisable and leading figures. This free to attend event includes access to all the seminars and presentations, and an exhibition of key suppliers and representatives from across the bulk and materials handling sector.
In addition to sales staff from Orthos, specialist personnel from ALLGAIER and FIREFLY will attend to demonstrate their products, so come along for a coffee and a chat – we're on stand 14.