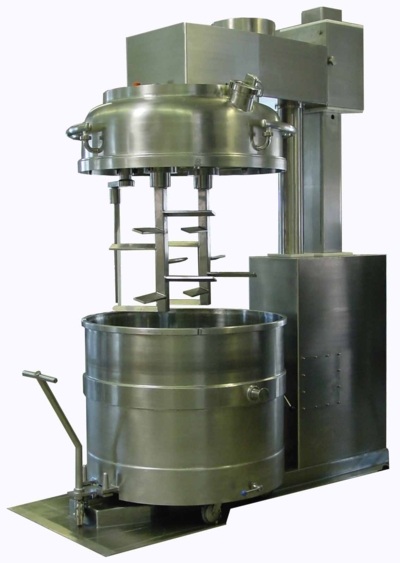 Planetary mixers from Orthos' principal Herbst GmbH are mainly used to mix materials with medium to high viscosity.  These could be liquids, pastes, creams or suspensions, processed in the Chemical, Pharmaceutical & Cosmetics, and Food industries.

Herbst planetary mixers can be supplied with mixing bowl sizes as small as 2 litres, for use in laboratory and R & D facilities, right up to 1250 litres, for large-scale production.

Does your process require heating, cooling or vacuum?  No problem, Herbst planetary mixers can be built to suit any application.

All product contact parts are made from stainless steel but special materials or surface coatings, such as Hastelloy, Teflon, etc. are also available.
Herbst planetary mixers can be supplied suitable for use in explosion zones (ATEX 94/9) with appropraite electrical controls – from a basic control cabinet right up to a fully automatic control system.

For Food and Pharmaceutical applications, rest assured Herbst machines comply with GMP/FDA and BG Chemie regulations. Full validation documentation IQ/OQ, FAT/SAT is available.

For full product information, current prices and availability, please call us on 01858 464246 or email a product specialist