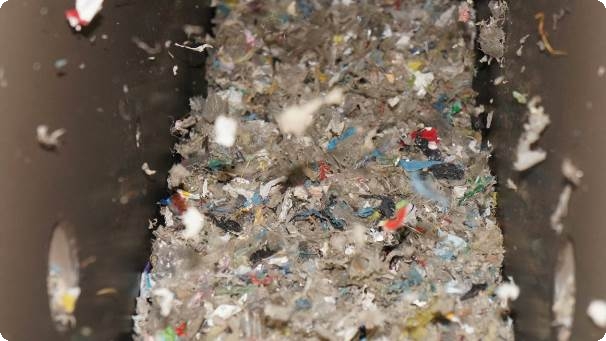 ** Visit us at RWM Exhibition 2018 **
As the world becomes more focussed on recycling waste materials, more efficient processes are developed to extract maximum benefit from Municipal solid waste (MSW). Utilising their long experience in the design and supply of tailored solutions for the drying of bulk materials, our partners – Tema Process, can offer you a Fluid Bed Dryer to treat RDF/SRF.

What is a Fluid bed Dryer?
A fluid bed dryer is used for continuous drying of various materials like powders and 2D or 3D dimensional materials up to 100 mm. Drying is achieved by the transfer of heat from a fluidising air stream as it comes into contact with the material on the perforated bed. Drying air temperatures may vary from 100 to 450 °C (product dependent).

How does it work?
Material is fed onto a shaking perforated steel bed through which the drying air flows upwards. The air is of sufficient volume that it lifts or 'fluidises' the bed of material, allowing intimate contact with each particle. The shaking action of the bed assists in the transportation of the material over the length of the dryer. Moisture is carried away with the air into a dust recovery system, whereby the hot air can be recycled in a closed loop back to the process. The flow of air is controlled along the length of the dryer to maximise fluidisation, enabling very wet and sticky materials to be handled. As the wet material passes along the length of the dryer it gradually loses moisture until the target dryness is achieved, at which point it passes into a cooling zone. Here the hot air is replaced by cool ambient air, which reduces the product temperature to the desired figure. Typical water evaporation rates for RDF are 500 kg/h to 5,000 kg/h.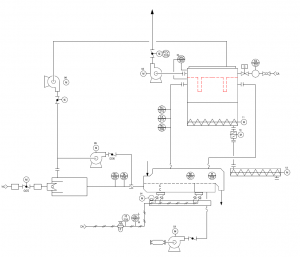 How is the air heated?
Ambient air is pumped by a fan into a burner fuelled by natural gas, light oil or butane. Usually waste heat from a Combined Heat and Power plant (CHP) at low temperature of 100-140 °C is also suitable. The hot air is then blown into a chamber under the perforated bed, from which air passes upwards into the material bed. Return air from the dust recovery system is recycled to the burner for fuel efficiency. Heat can be applied either directly or indirectly via a heat exchanger. This allows the use of other heating mediums such as steam, hot water and biogas.

Unique features of the Tema Process Fluid Bed Dryer:
>>The Tema Process fluid bed dryer is a low velocity (1 m/s) convective dryer. Compared to rotary drum systems the air speed in the dryer is ten times less.
No abrasion by inert parts
Very low dust production during drying
>>Wet product feed to the dryer and dried product discharge can take place at atmospheric pressure, meaning there's no need for rotary valves (rotary valves on RDF applications need large volume and are highly abrasion sensitive)
No risk of blocking by oversize material in rotary valves
>>The Tema Process fluid bed dryer works on rather low inlet temperature of maximum 120 °C and low outlet temperature of 50 °C
Low fire risk in the dryer
Low explosion risk in the bag filter
Dryer heating can be done with waste heat from CHP or low pressure waste steam from a turbine
Low emissions of odour and volatiles compared to rotary drum dryers working on drying air 300-500 °C
>>No air recirculation required back to the dryer heater.
No burning of dust or plastic foil carry over from cyclones in the high temperature zone of the burner which may cause fire in the dryer, melt residues in the heater, or release undesired toxic compounds in the drying air
The air suction side of the dryer can be used for ventilation of the building and subsequent filtering and deodorisation of the building air
>>The Tema Process fluid bed dryer is very easily accessible and has no internal structures
Visual inspection during operation is possible
Easy cleaning
Easy maintenance
Low risk of blocking by oversize materials (formation of "sausages" of carpet/textile strings) which can be a fire risk
>>The Tema Process fluid bed dryer has few rotating parts and can be placed on floor level
No adjustment required for rotating parts
Low maintenance cost for drive system
Low requirement for civil works (also no heavy RTO)
Low feed point of wet material
>>Final stage on the fluid bed is for product cooling to <45 °C for safe storage
>>The dryer exhaust gas deodorisation takes place in a wet scrubber
Low maintenance
No requirement for natural gas
No high temperature oxidation by chlorides (RTO's must be fabricated from stainless steel to avoid this)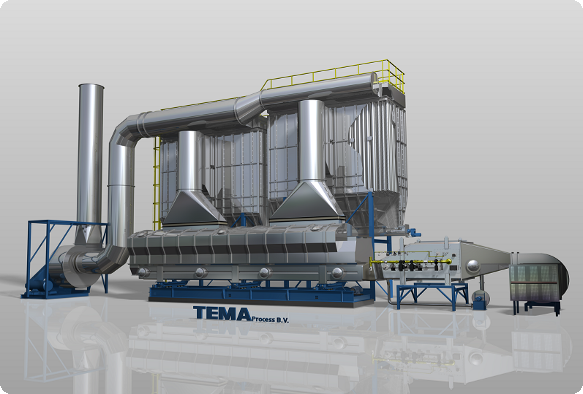 Tema Process General Information
To learn more about this innovative approach call us on 01858 464246 or email a product specialist