EIRICH at BAUMA 2019
Orthos' partners Maschinenfabrik Gustav EIRICH GmbH & Co. KG, founded in 1863 and technology leader in the field of industrial mixing technology, has been supplying such markets as concrete preparation, production of factory-mixed dry mortar and sand-lime bricks for decades. EIRICH mixers are always used when top-quality products are to be manufactured to the highest standards of mixing quality and homogeneity.
Highlights at BAUMA – EIRICH booth 449 in hall C1 – are:
New RV12C Mixer with an effective volume of 500 liters
For the RV12 Mixer, which is used worldwide by hundreds of companies in the preparation of facing concrete, the effective volume has been increased from 400 to 500 liters. At the same time handling and maintenance were made easier. It is now also possible to equip the mixer with a high-torque motor, which consumes significantly less energy than a conventional drive and has a constant torque. High-pressure cleaning, measurement of moisture content and temperature, as well as monitoring of the mix via a camera are optionally available.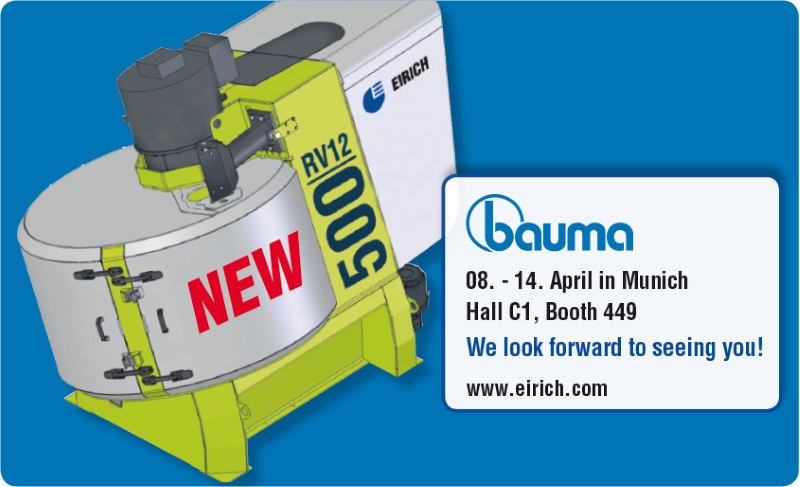 D23 Mixer (effective volume 1,500, 2,250 or 3,000 liters)
This mixer had its premiere at the last BAUMA with the slogan "mix premium class, pay middle class". Since then, more than 20 machines have been working successfully in the concrete preparation industry. Customers describe uniform, flawless surfaces, less need for binding agents and significant savings on time when changing recipes.
New feeder for synthetic fibers
This device enables the automatic batching of synthetic fibers that tend to bridge due to their special length-width ratio. The modular design of the device offers the choice of using it for short or long fibers. No manual feeding is required and the mixer is filled faster.
Modular control technology
Autonomous control modules enable efficient cleaning, moisture measurement and water metering. These features can be flexibly integrated into existing and new control systems.
ProView process data visualization
As a platform-independent tool, it enables the efficient analysis of operating data. It can be used in the office on a desktop PC or on a mobile phone while traveling.