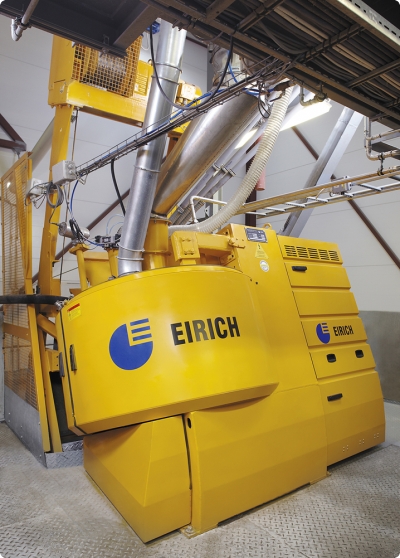 Orthos' partners Eirich offer a fully developed system for concrete processing. Their intensive mixers guarantee high quality standards for large production quantities, with frequent formula changes and the preparation of varying consistencies in one machine. Eirich's global competence has been built up during more than a century of mixing technology expertise.
1903 – Eirich built the first ring trough mixer
1906 – Eirich built the first planetary mixer
1924 – Eirich developed the Eirich mixing system i.e. the material to be mixed is no longer transported by the mixing tools but instead by the rotating pan – a principle still followed to this day.
Typical types of concrete mixed by Eirich include: roof tiles, face concrete, railway sleepers, foamed concrete, self-compacting concrete, fibre-reinforced concrete, high-performance concrete, ultra-high-performance concrete, polymer concrete.
Feedback from our customers confirms:
Concrete of all types and consistency can be produced rapidly and with high quality.
The concrete can be processed more easily and is less likely to bleed.
Quantities of Cement and pigment can be reduced in many cases (cost saving).
Binding agents are activated this initial and final strength of the concrete is increased.
Significant reduction of rejects – particularly in the case of high-visibility surfaces.
EIRICH Mixers General Information

For full product information, current prices and availability, please call us on 01858 464246 or email a product specialist