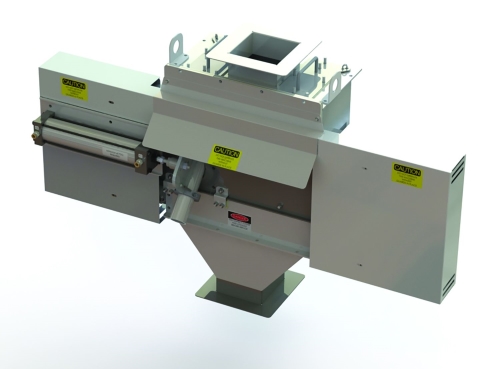 The Sentry Model GA sampler is a cross-cut sampler designed for automatic sampling of free-flowing, non homogeneous products from square or round gravity chutes. The GA takes a sample when an air-actuated "pelican-type" head moves across product flow in spout and collects a representative sample to the discharge point.
The material sampled is discharged through a flexible hose to a collection point. Material characteristics are not affected by the sampler because no moving parts convey the material to the sample container. Sample volume can be changed at the sampler controller.
With representative sampling, characteristics of each sample match that of the entire lot or batch – so samples are repeatable, leading to accurate sample analysis data. Automatic sampling ensures a sample can be easily and safely obtained with no need for direct human interface or interference. This ensures sample integrity as well as operator safety.
Suitable for: Pellets, powders, flakes, granules, grain, seed and slurries
Benefits
– USDA, Canadian Grain, FGIS, and NOPA approved design
– Pneumatic, electric or hydraulic actuation for flexibility
– Includes air filter, regulator and gauge where applicable
– Designed to eliminate the degradation of sample material
– No moving parts from sampler to container
– Pre-plumbed filter/regulator and solenoid valve available
– Optional wear lining in lower transition
– Optional release coating to ensure a non-stick surface
– CE and ATEX compliant models available


Back to Sentry Automatic Samplers

For full product information, current prices and availability, please call us on 01858 464246 or email sales@orthos.co.uk