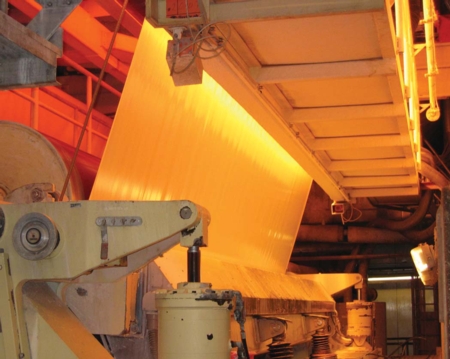 IR-Dryers – The most likely source for a fire
A major fire in a paper machine is a worst case scenario and means long downtime at best.  At worst the consequences may be more serious, with enormous capital loss as a result.  The damage resulting from a fire depends on various factors.  One key issue is how fast the fire can be detected and extinguished, early detection and extinguishing are key to minimising damage and downtime.
Firefly has been designing and developing preventive protection systems for more than 30 years and are known world-wide for their expertise in preventing industry related fires and dust explosions.  The IR-Dryer is one of the most dangerous sources of fire in the paper industry.  Firefly has developed the IR-Guard system to protect one of your most valued links in the production chain.
Most drying sections are different in one way or another.  The design varies between different paper machines and IR-dryer manufacturers which means different conditions for a fire.

Parameters influencing the design of an IR-Guard system:
– Design of the paper machine
– Location of the IR-dryer
– Fire spreading possibilities
– Dust build-up
– Type of dryer
– Cleaning procedures
IR-Guard – The Solution
The Firefly IR-Guard consists of flame detectors, web breakage indicator, control unit, water nozzles and comes complete with extensive documentation.



For full product information, current prices and availability, please call us on 01858 464246 or email sales@orthos.uk.com