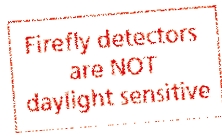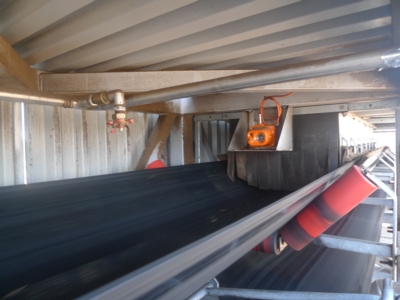 When flammable material is crushed, milled, conveyed and stored, the risk of fire increases.  The use of renewable sources of energy, such as biomass pellets, increases this risk as this material is usually dry and needs only low ignition energy to ignite.
Firefly has over 30 years of experience in protecting biomass power plants from fire and explosions.  With unique patented technology Firefly can detect sparks and hot particles in your process and eliminate them before they create a fire or explosion.
Headlines about fires in biomass pellet plants are unfortunately all too common.  As the pellet industry grows, so do its fire problems.
Producing or handling biomass pellets involves many risks.  One of the most common fire risks in the pellet industry is friction as it can generate overheated material that ignites in the conveyor or even worse, inside the cooler.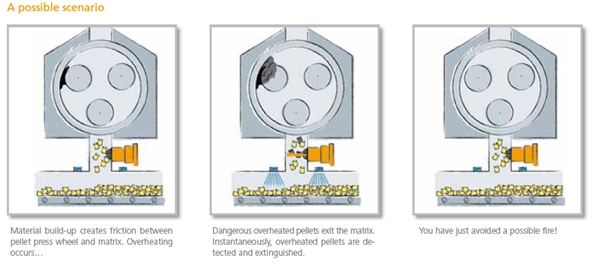 Firefly's staff have vast experience in the pellet industry and the highest technical skills necessary to design a safe fire prevention solution for your company.  In order to protect your company from fire and dust explosions you need:
• A fast and reliable system of the highest technical standard
• A tailor-made system to match your process flow
• Detection of potential hazards: i.e. sparks and hot particles occurring in your process
Additionally, to ensure uninterrupted production:
• You need a system which is insensitive to daylight* thus minimising numerous false alarms and costly downtime
• You need an extinguishing method adapted to your process to minimise the risk of water damage
* Not all spark detection systems are insensitive to daylight – Firefly is
Solutions
Firefly has developed unique solutions for the biomass pellet industry.  With these solutions, your plant can effectively be protected against costly fires and dust explosions with protection of:
• Dryers & Dryer cyclones
• Intermediate storage
• Mills
• Presses
• Coolers
• Screens
• Pellet silos
• High risk machinery
• Filters
• Unloading areas
For full product information, current prices and availability, please call us on 01858 464246 or email sales@orthos.uk.com