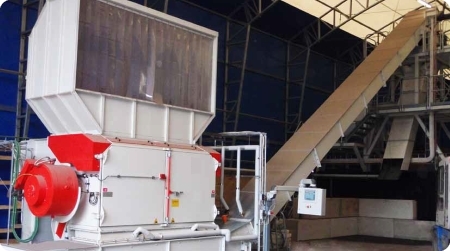 Waste shredders are a source of combustion  —  a fire can break out at any time
In many waste processing and recycling plants a fire in any one of a number of machines such as shredders, hammer mills, rotary shearing machines etc. is extremely likely to occur.  A fire in such areas of plant results in extended down-time and high maintenance costs.  The damage and losses after such a fire vary and depend on the individual factors involved.  Whether handling waste wood, RDF or confidential documents*, a key consideration to avoid such an incident is how early the fire is detected and quenched – the sooner an ignition is detected, the less the resulting damage and expense.
*We are proud members of the information destruction section of the BSIA
As partners of Firefly AB, Orthos can take advantage of 40 years of experience in the development of preventive fire protection systems.  Firefly are known world-wide for their technical competence in the field of industrial fire prevention.  The ShredderGuard™ system was especially developed to maintain production in your shredder plant, irrespective of brand e.g. Vecoplan, Untha, Lindner to name a few.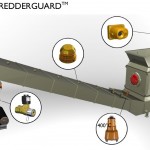 Extinguishing
The ShredderGuard™ fire prevention system consists of precision spark and fire detection equipment linked to an automatic extinguishing installation that covers the complete volume of the machine at risk.  This also serves to protect downstream equipment by preventing the spread of fire. Click the thumbnail to view an illustration of a typical installation.
Detectors – Insensitive to daylight!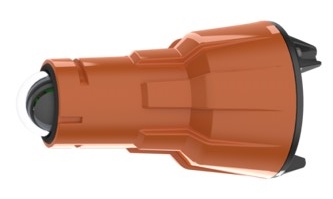 Detectors manufactured by Firefly AB are all insensitive to daylight with the result that false triggering of the fire prevention system is virtually excluded.  The detectors recognise sparks, hot particles (glowing embers) and flames.  They work in the infra-red range and are sensitive to temperatures from 250°C or 400°C depending on the application.  Measurements are based on sensitivity to infra-red radiation; the energy content of the particles being measured, as opposed to the light radiated from sparks etc.  The field of view of a detector can extend up to 360° x 180°.  And this wide-angle view provides full cover of all the surfaces to be monitored; the number of detectors is, therefore, kept to a minimum.
One of Firefly's OEM clients has produced an excellent little video presentation about how ShredderGuard™ works for them – click here to view (opens in new tab)
For full product information, current prices and availability, or to arrange a site survey, please call us on 01858 464246 or email a product specialist