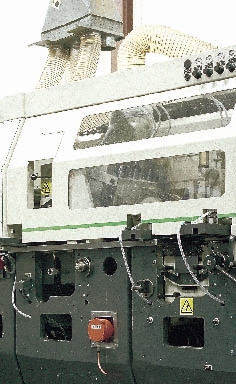 The planer is the heart of your production and one of the most dangerous parts of your plant.  It is one of the most common generators of fires in the wood industry.  Firefly has been developing and designing preventive protection systems for more than 30 years and are known all over the world for their expertise in preventing industry related fires and dust explosions.  All planers are different in one way or the other e.g. manufacturer, speed, cleaning procedures, surroundings and extraction design.  Therefore the solution against a fire cannot be the same for all planers.  Firefly has developed the PlanerGuard system to protect the most valued link in your production chain.
For detectors in a planer protection system there are a number of criteria that needs to be fulfilled.  There are also different requirements in different areas of the planer.  Firefly has a wide range of detectors that can meet these requirements.
Flame detection – Avoid false alarms
The area around the planer contains several different disturbance sources that could affect conventional flame detectors.  Firefly has therefore designed a solution that is highly insensitive to false alarms.  The detector used for flame detection around the planer, OAD (Open Area Detector), is a two-channel UV/IR detector.  By combining IR and UV wavelengths the detector will efficiently identify flames but discriminate other energy sources, such as lamps, sunlight and even arc welding.
IR flame detection
In enclosed volumes inside the planer, fire can easily become a big problem if time is given for the fire to develop.  Therefore Firefly is using fast acting IR flame detectors that will detect flames at an early stage without the common problem of being sensitive to daylight.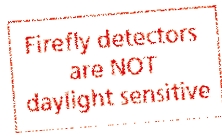 Hot body detection
In combination with the flame detectors, Firefly's IR hot body detectors, TD and GD, are used in the extraction ducts from the planer.  Detecting extracted overheated material gives an early warning of incipient fire.  This minimises the risk of fires and dust explosions in cyclones or other process equipment downstream of the extraction system.


Harmless extinguishing is essential
Firefly's philosophy is that extinguishing itself must not cause problems.  Even though their systems are fully automatic, an operator has the ability to manually activate a system.  Water mist systems develop a specific size of droplets designed for extinguishing in areas with machinery and electrical equipment.  If the droplets are too small they will be swept away by the thermal airflow.  If they are too big the risk of causing damage to the machinery as well as spreading the fire increases.  The water mist system only consumes a fraction of the water volume compared to a conventional sprinkler system.



For full product information, current prices and availability, please call us on 01858 464246 or email sales@orthos.uk.com