In order that you can utilise your screening systems at full performance over long periods, Orthos can arrange service support by Allgaier for all their screening machines and systems.  Services include the supply of spare parts, maintenance, modernisation, ATEX upgrades and user training.


Repair and maintenance
Preventive maintenance is vital to ensure long term trouble-free operation of machines that are used every day.  With a tailor-made repair and maintenance contract from Allgaier, you are always on the safe side.  You are protected from sudden breakdowns and profit from a long lifetime of your machines.  Orthos are able to arrange individual service packages at guaranteed fixed prices for inspection of your machines.  You specify the intervals and scope of the maintenance work.

Spare parts
Allgaier keep a large stock of spare parts at their HQ in Germany, which means that Orthos can supply most parts immediately.  There is a 24-hour service for standard spare parts and, for emergencies, weekend or bank holiday deliveries can be arranged.  You receive original spare parts which ensure the safe operation of your machines.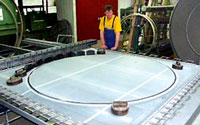 Screen materials
Allgaier keep more than 150 different mesh cloths in stock and thus can deliver quickly whether you need a new screen deck or a re-mesh.  By using the most modern tensioning and securing systems, we ensure the best quality of our screens.  Various types exist such as gluing, soldering, clamping (in accordance with FDA/BGVV regs where appropriate).

Retrofitting and modernisation
Sometimes modernisation, conversion or upgrading of your older screening machines can be a worthwhile alternative to the purchase of new.  During a site visit, an Allgaier engineer can determine the condition of your existing machines and produce a technical report and quotation as necessary.  If desired, Allgaier can also certify your machines in accordance with ATEX by installing any necessary new parts, issuing an EC-Type approval certificate and manufacturers declaration.

Allgaier Screens General Information
To discuss your service requirements, order original spare parts, or request a sales engineer visit, please call us on 01858 464246 or email sales@orthos.uk.com