New Eirich lab mixer EL1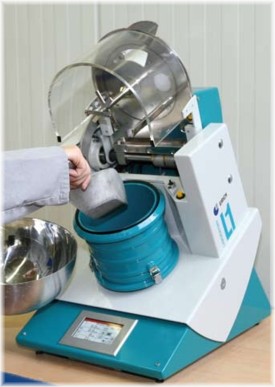 The EL1 newly released by Eirich is the small size mixer with full-size technology incorporating the following process capabilities: mixing, pelletising, granulating, coating, kneading and dispersing – all in one unit!
Make no mistake, this isn't a flakey toy mixer, the EL1 is a genuine Eirich machine featuring a choice of agitator style, infinitely variable tool speeds, low-weight quick release mixing pan (so you can clean it out easily between batches) forwards & reverse tool rotation, adjustable inclination (0 – 30°) and a touch screen display.  Weighing in at only 46 kg, this is a true bench top unit that anyone can use.
So if you're involved in the carbon, catalysts, ceramics, friction material, glass, minerals, proppants or refractory industries (or indeed anywhere that high shear intensive mixing is necessary) then the EL1 must be the next purchase for your lab.